Algebras, Geometries, and Groups
A conference in memory of Jacques Tits (1930 - 2021).
When: Tuesday 20th December and Wednesday 21th December 2022
Where: Académie Royale de Belgique (Rooms Albert II and Salle de marbre) Rue Ducale 1, 1000 Bruxelles
Programme: A version of the programme is available here
Registration: List of participants; some pictures of the event are available here.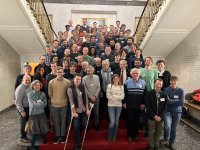 Speakers:
Slides and extra documents kindly sent to us by the speakers are available here.
Sadly, Anne PARREAU and Katrin TENT's talks had to be cancelled.
Organisers: Pierre-Emmanuel CAPRACE (UCLouvain), Ann DOOMS (VUB), Fabien DURAND (UPJV, SMF), Simone GUTT (ULB), Alain VALETTE (UNeuchatel, SMS), Hendrik VAN MALDEGHEM (UGent), Joost VERCRUYSSE (ULB, BMS).
With the administrative support of the Belgian Mathematical Society via Céline ESSER (ULiège) and Yvik SWAN (ULB).
Sponsors:
Académie Royale de Belgique
FWO Scientific Research Network "Coding Theory and Cryptography"
FNRS
UCLouvain, UGent, ULB, VUB
BMS and SMF